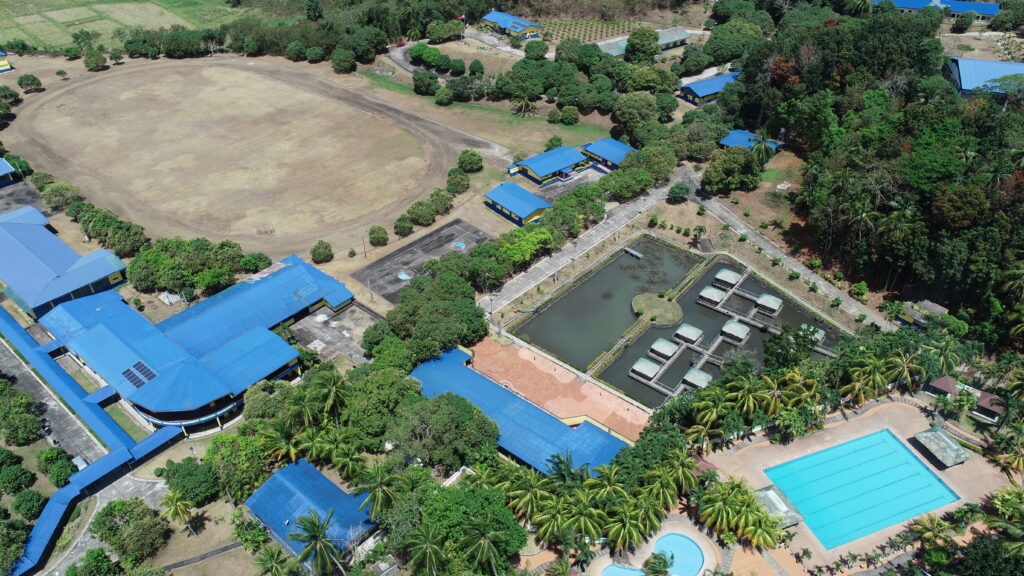 Founded in 1960 as a vocational high school, the first principal, Antonio U. Ganir spearheaded the construction of makeshift huts made of local materials that were utilized as classrooms of the school located then at the Forest Nursery along the Zigzag road in Pagbilao, Quezon (now Camp Trining Environment Center). It started as an Agricultural School for Boys which initially accommodated 72 students until it opened doors to Homemaking Curriculum for girls in 1963.
In 1964-1973, the second principal, Crispulo Constantino initiated the upgrading of teaching competencies of trainers. It was also during his term that QNAS was transferred to its present location after acquiring 31 hectares of land through expropriation proceedings.
The third principal, Modesto R. Cabanada led this school from 1974-1999. It was the start of offering post secondary courses such as Associate in Agricultural Technology (AAT); Bachelor of Science in Agriculture (BSA) major in Horticulture, Animal Science and Agronomy; and in 1981, Bachelor of Science in Homemaking Technology (BSHT). In 1987, all its degree programs were closed by DECS because the school was not ready to continuously offer 4-year degree courses.
Major development at Quezon National Agricultural School such as the establishment of SIE (Student Instructional Enterprise), IGE (Income Generating Enterprise) started in 1994 thru the AGRITECH program. These SIEs were composed of projects in Animal Raising, Crop Production and Processing of Agricultural Commodities. The repair and refurbishment of existing facilities were likewise coupled by the integration of Agribusiness Entrepreneurship in the curriculum.
Being funded by the Australian Aid for International Development (AUSAID), (1994-1998) and chosen by the Educational Development Projects Implementing Task Force (EDPITAF) as one of the 12 schools throughout the country classified as Provincial Technical Institutes of Agriculture (PTIA) under AGRITECH, Quezon National Agricultural School was able to repair some of its physical structures and systems for instruction. These included four instructional buildings, micro-credit financing for students and initial development of laboratory facilities both in Animal Production and Processing Technologies took place.
In early 1998, QNAS was transferred to TESDA from DECS per implementing guidelines of the trifocalization of educational system under General Appropriations Act of 1997. This was in response to the TESDA-DECS Joint Memorandum Circular No. 1 series of 1997 which states the mandate where separation of secondary department and school's college department has to take place.
In May 1999, a new Vocational School Administrator Teodoro M. Gatchalian assumed office. The development focused on strengthening linkages with different NGOs, POs, NGAs and continuing trainings under the institution's Community Outreach Center (COC). Reengineering of the campus and physical development started to peak in 2001. The Food Preparation and Service Technology, a 3-year course was offered due to the demand for skilled workers in the Hospitality Industry.
In 2002, several programs have been launched in QNAS and were supported by the different government agencies and NGOs like DOST for its micro financing, DAR for scholarship program, DA for its Bio-N Fertilizer production, Rotagrilife for its micro propagation technologies and Nestle Philippines for its coffee technology. QNAS became one of the Research Centers for Agriculture chosen by the office of the Philippine Council for Agriculture, Forestry and Natural Resources Research and Development (PCARRD). In the same year, staff development was seriously attended and from thereon it remains one of the school's priority and continuing strategies.
The school became recipient of GTZ-EDET program of the Republic of Germany in 2003. The program provided additional fund for facilities improvement and Personnel's Capability Building for its distinctive area of Competence (DAC) (Animal Production NC II, a competency based curriculum). As a consequence, various trainings for staff have transpired to prepare the school's human resource for a greater task ahead.
The Food Processing Technology (esp. Meat processing) served as the support to the Distinctive Area of Competence (DAC), thus; development of Food Processing Plant and 11 million pesos worth of equipment was budgeted for QNAS from GTZ-EDET, project of TESDA.
In 2004, another Competency Based Curriculum was implemented, the Hotel and Restaurant Service Provider, (Kitchen Service Provider, Food and Beverage Service Attendant, and General Service Provider). The course is of high demand and promising because the number of enrollees increased by 18% in 2004 alone. The increase in enrolment was significant in the history of QNAS, a connotation that offering non-agricultural courses is a great help to the needs of human resources training in Quezon.
In less than a decade, the school has established an institution conducive to instruction through its different amenities such as tissue culture laboratory, soils laboratory, integrated pest management laboratory, food laboratory, food processing laboratory, open bar, mini resort, canteen, guest houses, dormitories, well-furnished and air-conditioned library, state of the art food preparation/kitchen laboratory and housekeeping facilities.
2007 marked another milestone in the history of QNAS as it further reached out in the province through its partnership with Quezonians 1923, a Non-Government Organization. With an agreement aimed to collaborate in bringing community skills and manpower development programs of the government to the people of Quezon Province, the Quezonians 1923 Livelihood & Learning Center Inc. (QLLCI) located in Barangay Concepcion 1, Sariaya, Quezon, became part of the QNAS system thereby expanding its scope of clientele as well as the number of competency based programs it offers.
On July 1, 2008, Zoraida V. Amper received the key of responsibility from Mr. Teodoro M. Gatchalian as the Officer-in-charge of the school and has gained the leadership after a year. Additional courses like Building Wiring and Installation NC II, Consumer Electronics Servicing NC II, Shielded Metal Arc Welding NC II, Health Care Services NC II, Baking and Pastry Production NC II were offered. Thus, workstations and laboratories for the said courses were likewise improved.
In 2009, QNAS is accredited SILVER by Asia Pacific Accreditation and Certification Commission (APACC) and garnered the Gold Award last October 30, 2017 and Two STARS in the STAR Rating System for TVET Programs last October 27, 2017